Experience the perfect blend of Mexican design and modern comforts in our stunning vacation rental. With 3 guest bedrooms and a spacious master bedroom, Casa Mulder is ideal for families or groups of friends seeking a memorable getaway.
Step inside and be captivated by the beautifully decorated interior, showcasing the vibrant colors and rich textures of Mexican design. Each room is thoughtfully furnished to ensure your utmost comfort and relaxation throughout your stay. The master bedroom offers ample space and a serene atmosphere, perfect for unwinding after a day of exploration.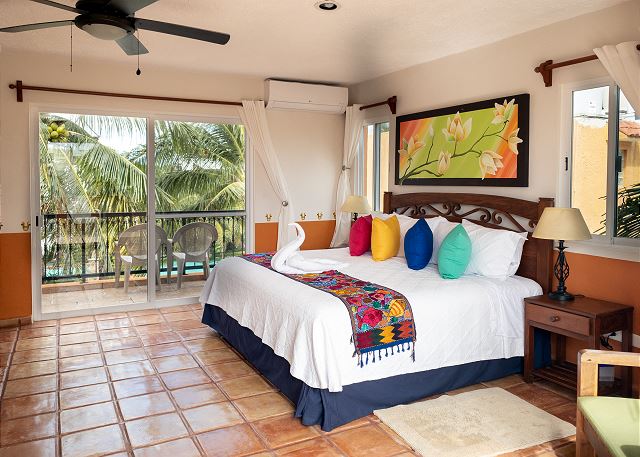 Indulge in the outdoor oasis of Casa Mulder. Step into the lush back garden and be greeted by a sparkling pool, inviting you to take a refreshing dip or lounge by the water's edge under the warm Mexican sun. For breathtaking views of the Caribbean, head up to the roof lounge and savor the beauty of the ocean while enjoying a cool drink or simply basking in the peaceful ambiance.
Situated just one block from the beach, Casa Mulder grants you easy access to the pristine sands and turquoise waters of Puerto Morelos. Spend your days sunbathing, swimming, or snorkeling in the vibrant coral reefs that are teeming with marine life.
In addition to the beach proximity, Casa Mulder boasts a convenient location close to the town center. Explore the charming streets of Puerto Morelos and discover local shops, restaurants, and cultural attractions. Immerse yourself in the vibrant atmosphere and taste the flavors of authentic Mexican cuisine.
For your convenience and exploration, bicycles are provided at Casa Mulder. Take a leisurely ride along the beachfront or pedal your way through the town, immersing yourself in the beauty and culture of Puerto Morelos.
Make your vacation unforgettable at Casa Mulder in Puerto Morelos, Mexico. Book your stay now and embark on a remarkable journey of relaxation, adventure, and discovery.