Towel Art At Abbey del Sol
If you are a frequent guest of Abbey del Sol, you may have noticed the beautiful figures that our housekeeping staff creates with towels. They make everything from small penguins to beautiful swans and lovely mermaids for your delight!
We've been going strong here at Abbey del Sol since 2003 and we want to thank our staff for doing an incredible job. They help to make Abbey del Sol feels like a home. Thanks to everyone for being part of this family!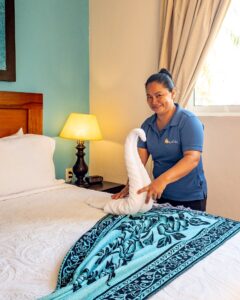 Honey Moon! The bride and the groom